Are you tired of your ride looking like everyone else's on the block? At Tricked Out Car & Truck Sales, we have more than eight years of experience providing and installing custom truck accessories such as nerf bars, bed liners, Tonneau covers, and more! While two vehicles may be manufactured in the same factory, it doesn't mean they have to look the same for the rest of their existence.
Check out our top truck accessory products below and make an appointment today to trick out your ride!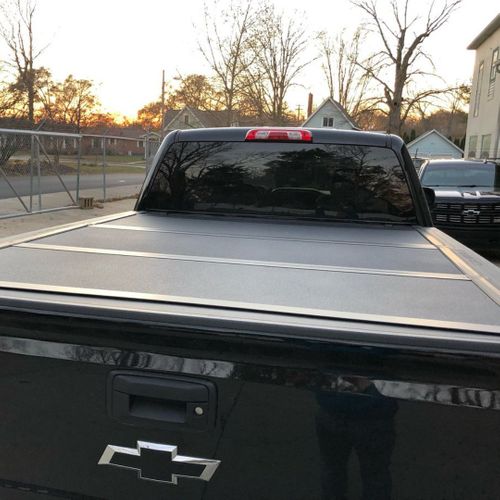 Tonneau Covers
As a truck owner, nothing is more frustrating than your truck bed being exposed to the elements or potential thieves. Tonneau covers provide the most extensive protection with durable built-to-last materials designed specifically to handle all weather conditions. With a fully aluminum framing and UV-protected vinyl covering, your ride will have sleek protection year-round with added discrete privacy.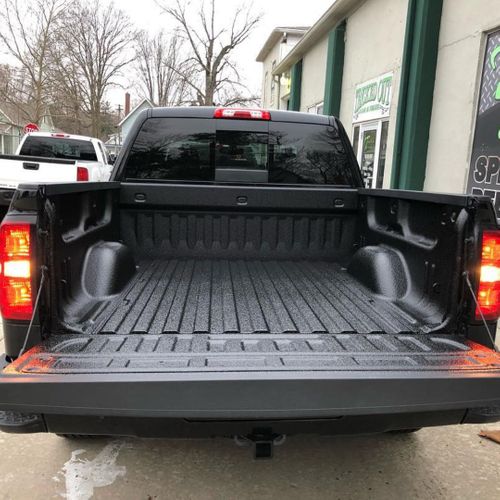 Bed Liners
Durable and rugged, both you and your truck know how to work hard and play hard. Don't let your truck bed take a beating. No matter the activity, Tricked Out Car & Truck Sales offers the best spray-on bed liners on the market. With the quick installation of just a couple of hours, your truck will be ready to take on the world. Protect your truck from rust, corrosion, and surface damage with a spray-on bed liner.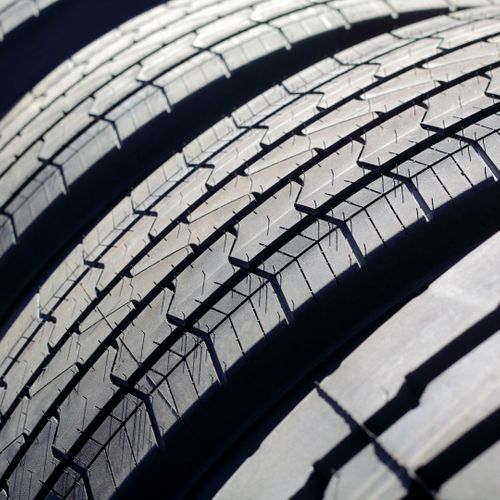 Wheels & Tires
Tires are more than a safety feature — they are a statement piece! Tricked Out Car & Truck Sales has the most extensive line of custom wheels and tires to outfit any truck. Whether you are looking for more traction during snowy and icy conditions or simply looking for something more fitting to your truck's style and personality, rest assured that we have the best selection of tires and rims available.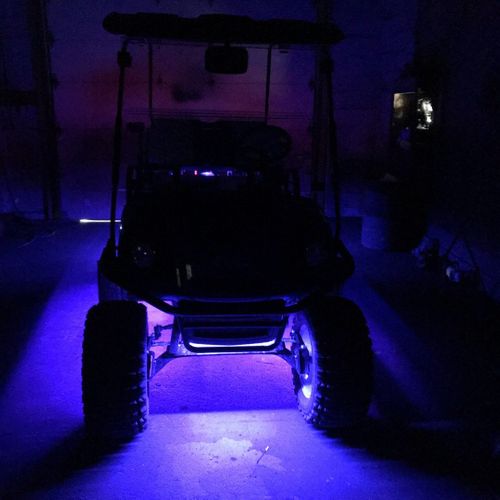 Light Bars
Vehicle lights are not just for tricking out your truck, but can also be added to a variety of other rides, including:
ATVS

UTVS

Golf Carts

Motorcycles

And More!
At Tricked Out Car & Truck Sales, we can handle any custom lighting requests from light bars, LED strip lights, angel eye halo ring headlights, underbody lights, grille lights, LED light modules, and engine bay LED lights, as well as strobe and emergency lighting.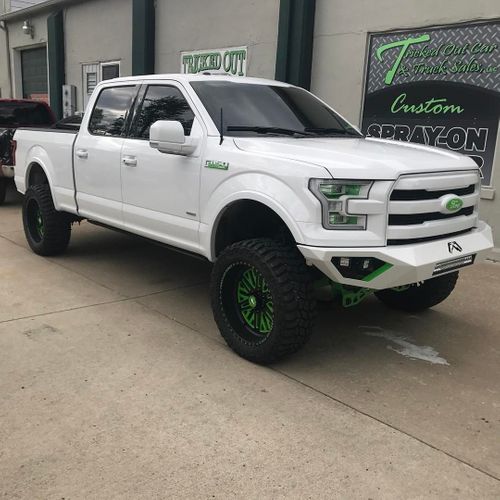 Lift Kits
Lift kits are the perfect upgrade for trucks, SUVs, and Jeeps alike! No matter if you are an off-road enthusiast or daily driver looking to make a statement, our lift kits are guaranteed to enhance both your vehicle's appearance and performance.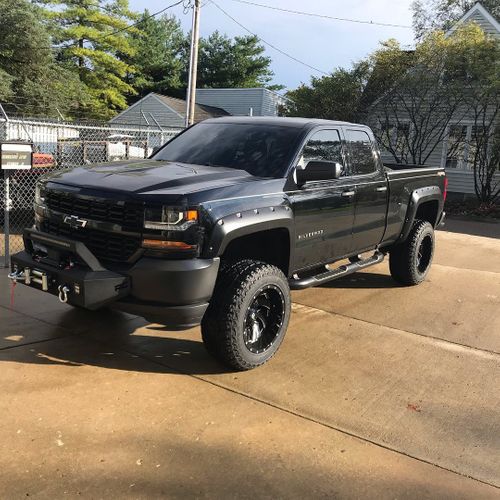 Remote Starts
Remote start is a necessary luxury! Just because your vehicle did not come with a remote start, does not mean you are stuck running out in the cold every morning. At Tricked Out Car & Truck Sales, our technicians can upgrade your experience by equipping your ride with the latest in remote start technology.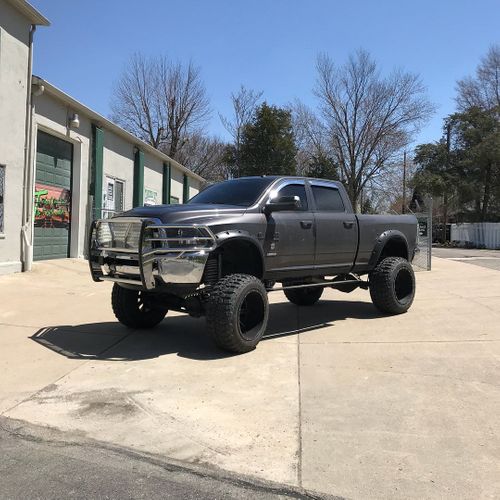 Leveling Kits
Are you looking for a more aggressive appearance for your truck? While most trucks are designed from the factory to have the rear end slightly higher than the front, our leveling kits can raise the front of your vehicle to match the back, without affecting the payload capacity!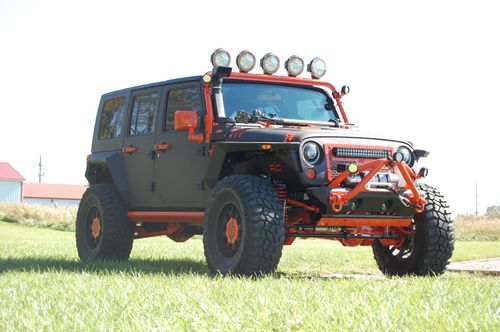 Show off your custom creation and define your vehicle's true identity with quality truck accessories and first quality installation service.
We don't just sell you tricked out truck accessories and send you on your way, we service and install most of the accessories we sell or have the knowledge and resources to help you get the job done.
Rough Country
Undercover
Bak Industries
Weathertech
Husky Liners
Bushwacker
Retraxx
Rugged Cover
Recon
Putco
Bestop
Warn
Rigid industries
Raptor
Westin
Zone Offroad
Ready Lift
Fabtech
Access
Window tint
Bed coatings & truck bed liners
WeatherTech- floor liners and floor mats
Recon- cab lights, headlights, taillights
Promaxx- light bars
Rough Country- suspension lift kits
K.C Hilites- light bars and fog lights
DeeZee- nerf bars, tool boxes, fuel tanks, mud flaps
Bak Industries- truck tonneau covers
Access- truck tonneau covers
Truck step bars and nerf bars
Grilles, exhaust kits, and step bars
Bestop- Jeep tops, bumpers, tire carriers, doors
Covercraft- seat covers
Rigid industries- LED lighting
Warn- winches
K.C. Hilte
And More!
We offer a wide range of truck accessories for your vehicle as well as free estimates.
We at Tricked Out Car & Truck Sales are experts at taking your dreams of vehicle customization and turning them into reality. Drop by or give us a call.
Running Boards - Side Step Bars - Nerf Bars - All Installed Here!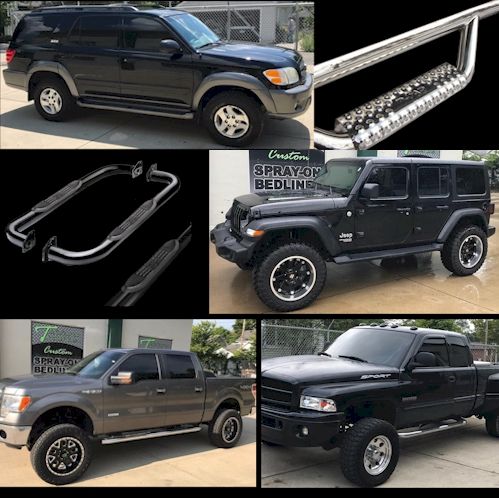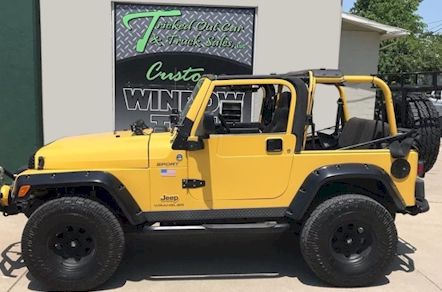 Nerf Bars - Side Step Bars - Running Boards
The most popular styles include Polished Stainless Steel and Black Powder Coat Steel... Which ones are for your vehicle?
Truck Accessories Professionally Installed by Tricked Out Car & Truck Sales!