Tonneau Covers
Protect your truck bed and keep cargo safe with a professionally installed Tonneau cover.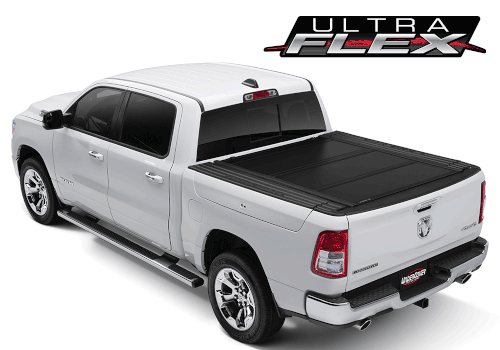 Rugged Protection, Quick Access
Tonneau covers open and close easily, so you can access your truck bed fully without sacrificing protection from the elements and thieves.
In addition to protection and security, Tonneau covers offer:
Improved gas mileage — covers reduce drag while driving

All-weather seal — keeps rain and snow out of your truck bed

High-grade components — built tough for ultimate durability

Sleek Design — low profile and minimal, so your truck still looks great

Versatility — drive with the cover open or closed

Variety — come in various materials and styles to fit your lifestyle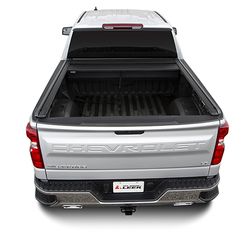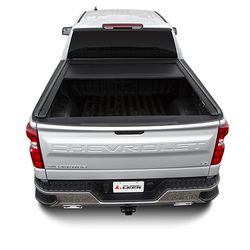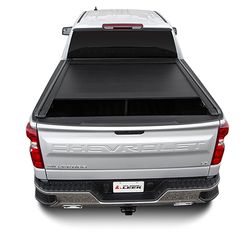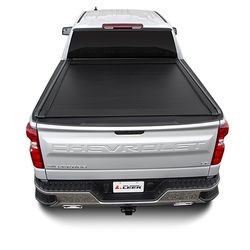 Tonneau Covers - Professionally installed!
Tonneau Covers gives you a practical way to protect your truck bed with a durable material that is available in soft and hard cover versions.
These truck bed covers feature an all weather seal that keeps out rain and snow, helping to keep weather off your truck bed!
Many of the tonneau covers allow you to drive with the cover in the open or closed position.
Rough Country Tonneau Covers are built using high grade components featuring fully aluminum framing and uv protected vinyl covering.
Tonneau covers can help keep weather and thieves at bay.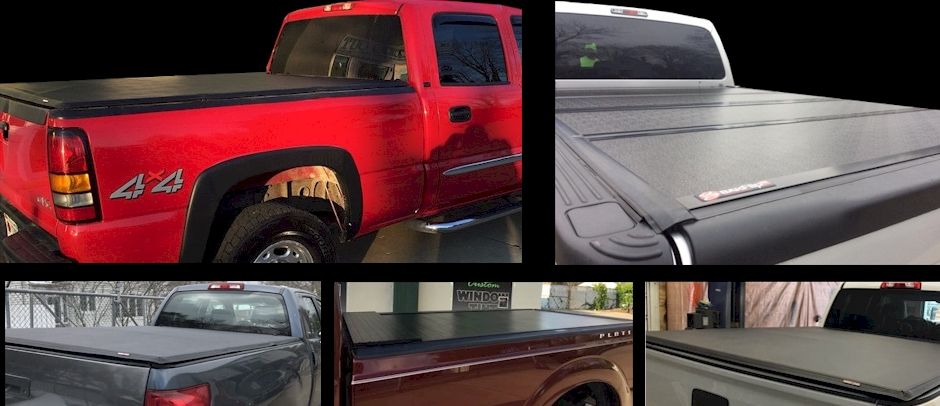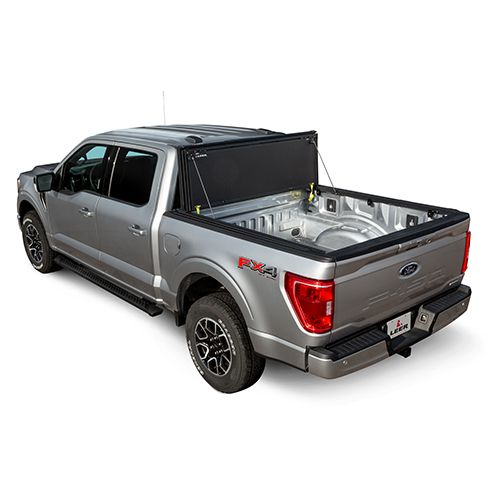 HF650M
The HF650M is heavy-duty with a matte black finish for a sleek appearance. Its secure locking mechanism and ability to support up to 400 pounds make it an excellent choice for those who need to transport valuable or heavy cargo.
Main features:
Weather resistant

Hard, tri-folding

12mm low-profile design

Water management system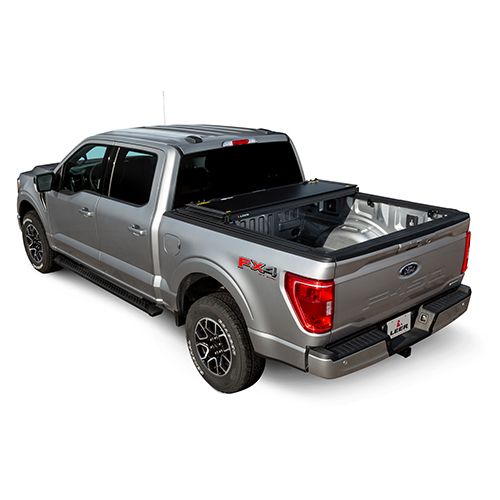 HF350M
The HF350M is an affordable Tonneau cover with a tri-fold design for easy access to your truck bed. It is made of tough materials resistant to water and UV rays and has a sleek, low-profile appearance.
Main features:
Easy on, easy off, no tools needed for installation

Textured, matte black folding panels

Low-profile design

Leer CYNC® latching system for easy one-handed access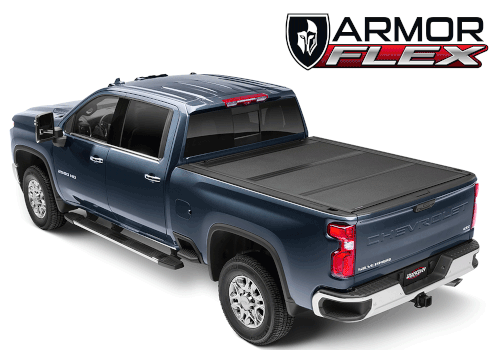 UnderCover ArmorFlex
The new ArmorFlex hard folding cover is designed to protect your truck bed and its contents while maintaining its strength, style, and durability. Heavy-duty panels are coated with a LINE-X® specialty automotive coating designed to provide advanced protection from dents and scuffs, even in the most extreme environments. The dual-action tailgate seal offers universal tailgate operation, allowing you to close the tailgate with the last panel of the cover-up or down. ArmorFlex comes backed by a 5-year warranty.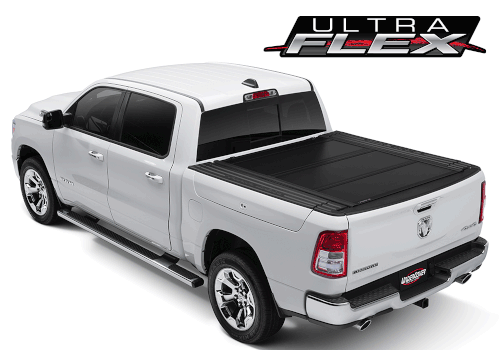 UnderCover Ultra Flex
A hard folding truck bed cover that comes with overwhelming new features and is topped off with an alluring matte finish. The Ultra Flex is in a category of its own. From the irresistible outward appearance to each component beneath the cover, the Ultra Flex has been carefully crafted to be the ultimate all-purpose truck bed cover.
All-new features that accompany the Ultra Flex include a dual action tailgate seal, allowing for easy operation and allowing you to close the tailgate with the cover-up or down. Multiple riding positions allow the user to ride with full access to their bed, and full weather protection is available if the cover is in the fully closed position.
Ultra Flex is an easy clamp-on application and can be installed and removed easily with our newly designed L-Rail's. What's more, the Ultra Flex is backed by a 5-year warranty, making it the most desirable folding cover on the market.
Hard Cover (Retractable) Tonneau Covers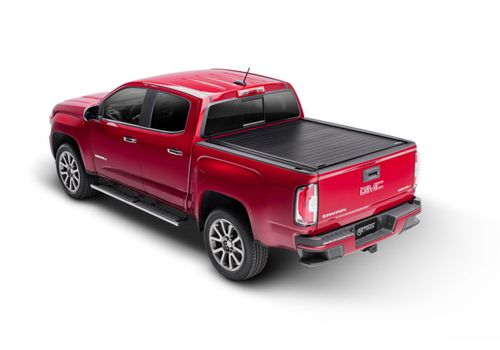 RETRAXPRO MX
The RetraxPRO MX retractable truck bed cover is part of our Premium Aluminum Series covers. The Premium Aluminum Series covers are constructed from industrial strength aluminum slats that provide unsurpassed strength and ruggedness. The RetraxPRO MX combines industrial strength aluminum construction with an incredibly resilient matte finish. The matte finish on the RetraxPRO MX provides incredible scratch resistance and adds style to your truck.
The RetraxPRO MX not only provides rugged protection for your truck bed it also provides a patented low-profile design that enhances the appearance of your truck. The compact storage container features a unique spiral track system that prevents the cover from coming into contact with itself as it opens and closes. The operation of this cover allows it to always stay flush to the rails and creates a dependable seal to help keep the elements out and protect your cargo.
The RetraxPRO MX has a sealed ball-bearing roller system that glides effortlessly along the rail with a convenient handle that eliminates the need for pull straps, Velcro, snaps or springs. The RetraxPRO MX is key lockable in any position that gives you unlimited flexibility in your hauling capacity.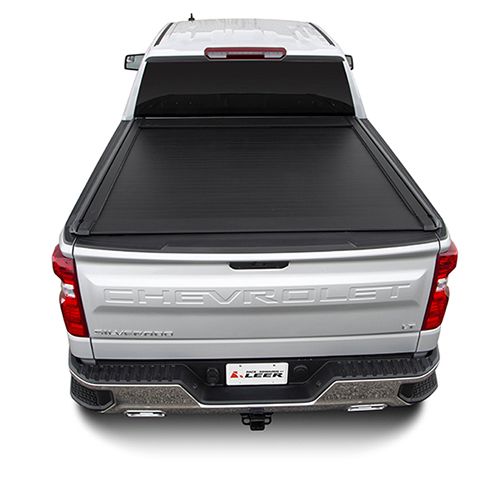 Ultragroove
The UltraGroove™ offers the best of both worlds, with the strength and security of a metal cover but the look and feel of a soft cover. The integrated T-slot system allows for easy mounting of accessories like a bike or board rack.
Main features:
Weather-resistant

It can be locked every 12 inches to allow for more versatility

Knobs and grips are hidden for a more streamlined look

Water management system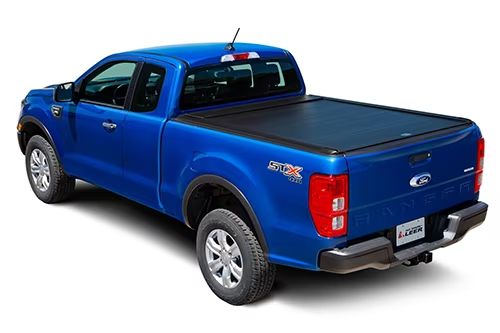 Ultragroove Metal
The UltraGroove™ Metal boasts a metal look with heavy-gauge aluminum panels and a tough, powder-coated, matte-black surface. It's easy to attach most Thule® or Yakima® racks to carry bikes, kayaks, cargo baskets and more with our built-in rail expansion system. Its versatile pull-strap operation allows you to lock the cover every 12 inches. It opens quickly with just a turn of the lock knob and closes just as easily with a pull on the built-in strap. It also comes with drain tubes in front and rear to maximize water management.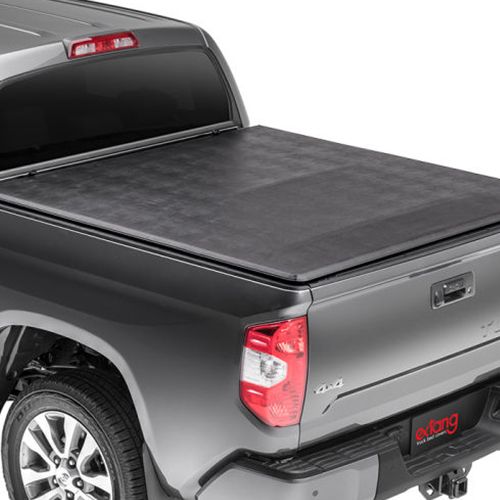 Trifecta 2.0 Tonneau Cover
The best selling soft Tri-Fold cover just got better. The Trifecta 2.0 has softer curves and sleek design that creates a smoother, more contoured, low profile appearance. The tarp is constructed of heavy-duty, leather grained fabric with an integrated corner tuck system that has improved tarp tension and keeps your truck looking great.
The newly redesigned frame, hinges, and corners provide more structural strength than before. Strongest in the industry, the frame is made of lightweight aircraft grade aluminum. The new MAX hinges are rugged and have a double pivot design. Our exclusive snap on seals eliminate adhesive and remain in place for ultimate weather protection.
Looking for a matte premium look, check out the Trifecta 2.0 Signature Series. Looking to accommodate your Toolbox? View our Trifecta 2.0 Toolbox edition.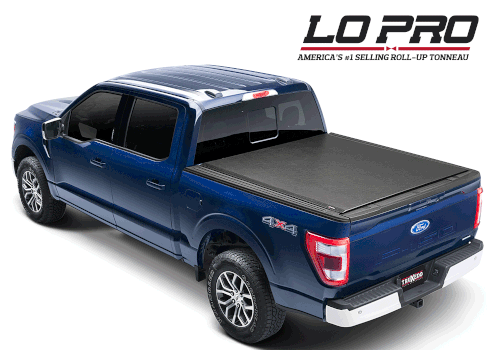 TRUXEDO LO PRO
A sleek, low-profile design is the signature of the Lo Pro. Heavy-duty construction and the patented automatic tension control keeps the cover looking great in any weather condition. The Lo Pro mounts inside the rails of the truck bed, providing full access to stake pocket holes for use with additional accessories. Stylish design, simple functionality, and durable bed protection are what make the Lo Pro North America's #1 selling roll-up truck bed cover. The Lo Pro is backed with a Lifetime warranty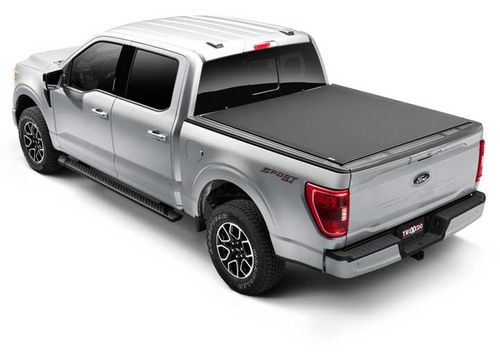 TRUXEDO PRO X15
The all-new Pro X15 includes many of the same great features as our #1 selling cover, the Lo Pro, but with added style and performance. New 15 degree rails deliver an Xtra-low profile, flush-mount look on the truck bed, and superior-grade woven fabric provides a stylish matte-black appearance.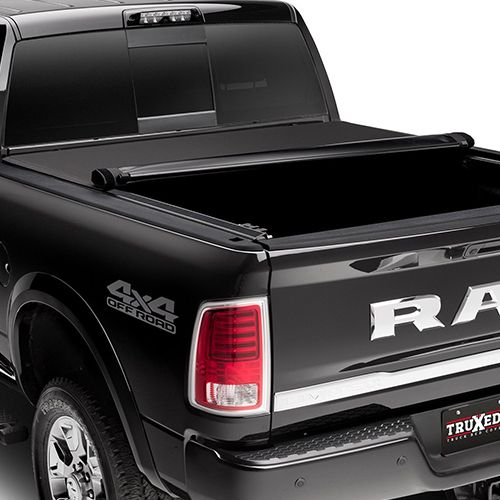 TRUXEDO SENTRY
The all-new Sentry by TruXedo combines all the same great features of the Sentry CT but with an industrial-strength, leather-grain vinyl fabric. This hard roll-up style truck bed cover features an Xtra-low profile. We've pressure bonded the vinyl fabric to heavy-duty aluminum slats making Sentry the ultimate in durability and security.
When rolled up tightly at the cab, the cover provides full bed access without blocking rear view visibility or the third brake light. When closed, the Sentry's flush mount profile delivers a sleek look that's sure to impress! An extra security latch is located towards the center of the cover for enhanced security so you can rest in the fact that your cargo is safe and sound.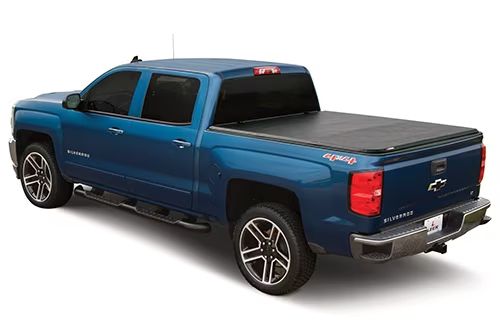 Latitude
The Latitude is a versatile and durable option that can be installed with or without a toolbox. Its lightweight and low-profile design makes it easy to use and can be quickly removed for full access to your truck bed.
Main features:
Sturdy yet flexible vinyl material

Can be opened with the tailgate open or closed

Easy maintenance

Easy-open latch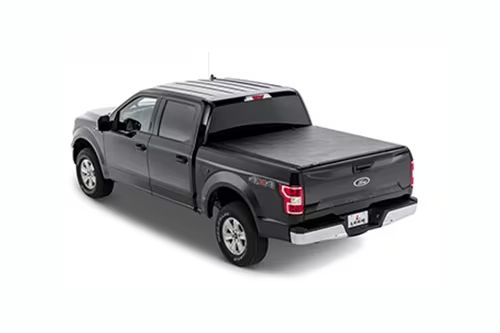 SR250
The SR250 is a retractable cover that can easily open or close with one hand. It features a low-profile design and is made of weather-resistant materials, making it a great option for those who need quick and easy access to their truck bed.
Main features:
Leer CYNC® pinch release latch system

Automatic tension adjustment

Double-coated reinforced vinyl

Easy roll design
The Installation Process
Shopping for and installing truck accessories can be daunting, which is why the experts at Tricked Out Car & Truck Sales are here to help. Our professionals will fit, order, and install your Tonneau cover and have your truck protected in no time. Our technicians will even walk you through removing or installing the cover if needed — some do not even require tools to install!
Ready to get started?
Protect your truck from the elements and thieves and get a professionally installed Tonneau cover today! Trust Indiana's number-one choice custom car shop — Tricked Out Car & Truck Sale for all your car and truck needs. Contact us with any questions about Tonneau covers and other truck accessories. It's time to trick out your ride!
Tricked Out Car & Truck Sales